So delicious and healthy, this vegan lentil dahl (or dal) recipe is an Indian dish made of lentils. Our chef at Le Restaurant du Monastère Jean-Mathieu Leclerc concocted this wonderful recipe you can put together in a flash!
Did you know that lentils are a plentiful source of nutrients? They are rich in fiber, protein and antioxidants? What's more: they are affordable and easy to make at home.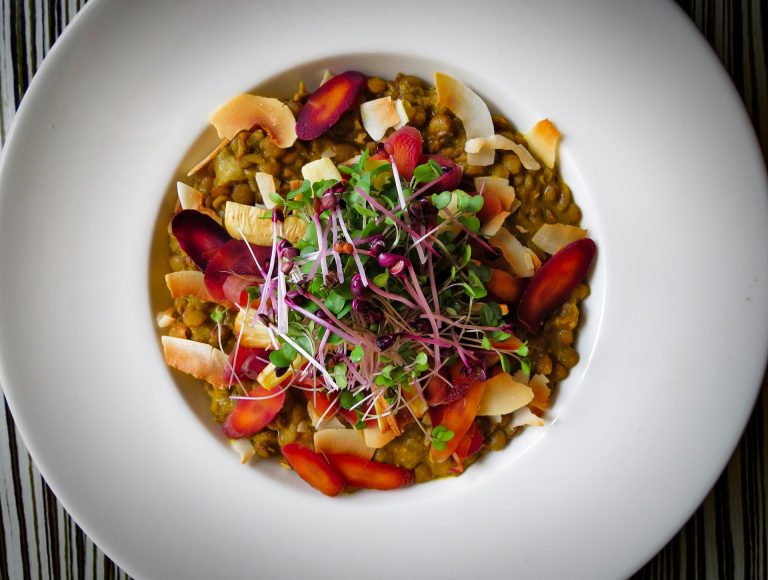 1 large onion, chopped
1 clove of garlic, chopped
2 large pieces of fresh ginger
2 cinnamon sticks
1 litre of green lentils
2 litres of vegetable broth
400 ml of coconut milk (1 can)
200 ml of coconut cream (1 can)
2 tablespoons of vegetable oil
Dried spices: curry, turmeric, cumin and ginger (to taste)
Salt and pepper
Suggested toppings (to taste): toasted coconut shavings, toasted sliced almonds, fresh coriander, mustard microgreens to spice things up, or corn or red cabbage for a sweeter taste.
Sauté the onion and garlic in some oil, over medium heat.
Add the cinnamon sticks and fresh ginger.
Add the lentils and vegetable broth.
Cook over medium heat, making sure that you don't overcook the lentils (read the package for instructions as the lentils can cook very quickly).
Season with your choice of dried spices (note that some dahls can be spicier than others).
Add the coconut milk and cream to make your dahl creamier.
Add salt and pepper to taste.
Spread over cooked jasmine or basmati rice.
Add your favourite toppings.
To cook more of our recipes, click here.