Contact us
Le Monastère is located in the heart of Old Québec. There are many ways to get there. Discover our strategic location and take public transport if you can!

Main entrance with parking
Québec City train station
This train station is 450 metres from the Monastère's main entrance.
450, rue de la Gare du Palais, Québec (Québec) G1K 3X2
Gare du Palais bus terminal
This terminus, 550 metres from the main entrance to the Monastère, is home to several intercity bus companies.
320, Rue Abraham-Martin, Québec (Québec) G1K 3X2
RTC public transport services
Offset your carbon footprint
Use this online tool to calculate the amount of carbon emitted during your visit to Le Monastère and find out how to offset it. A concrete way to fight climate change!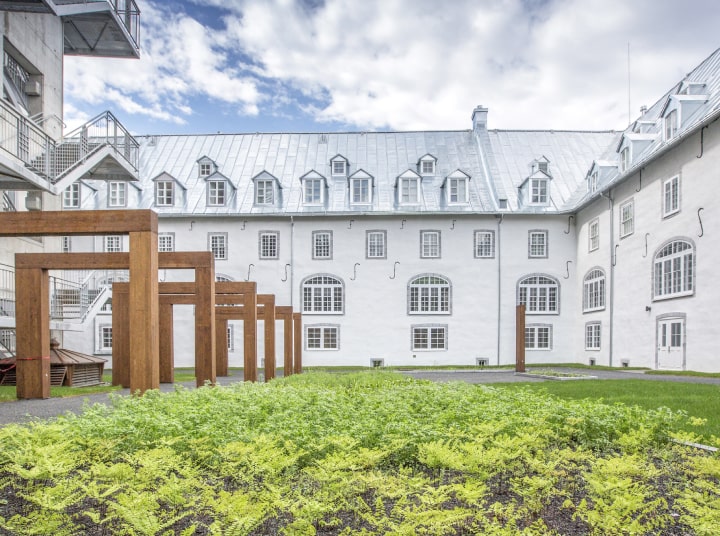 As Le Monastère des Augustines is located in downtown Québec City, we have limited on-site parking spaces. Unfortunately, we do not take reservations for these. Gesparc manages these parking spaces and are extras during your stay (rate of $25 per day, $19 per half-day or $5.75 per hour). Two electric vehicle charging stations are available on site. Please note that we do not offer valet parking.
In addition to the Ville de Québec paid street parking, other private, paid parking spaces are available near Le Monastère.
1, rue de l'Arsenal, Québec (Québec) G1R 2J6
418 692-3588
2, rue des Jardins, Québec (Québec) G1R 4S9
418 694-9991
217, rue Saint-Paul, Québec (Québec) G1K 9E6
418 622-9798
1138, rue Saint-Vallier Est, Québec (Québec) G1K 6T8
418 622-9798
270, rue Saint-Paul, Québec (Québec) G1K 3W7
418 622-9798
Check whether major construction projects in the Old Québec area will have an impact on your travel plans.