Massages in Québec City
Rejuvenate with our treatments and massages in Québec City. Whether you're visiting for the day or staying with us, Le Monastère wants to help you relax. Nourish your body and mind with a massage or personalized holistic treatment. Enjoy an experience that is both soothing and invigorating in a heritage site steeped in nearly four centuries of history!
During your session, our team of professionals will listen to your needs with benevolence and gratitude. And because we're an NPO, there's no tax on our massages in Old Québec. It will be a relaxing, well-deserved moment you'll want to experience over and over again.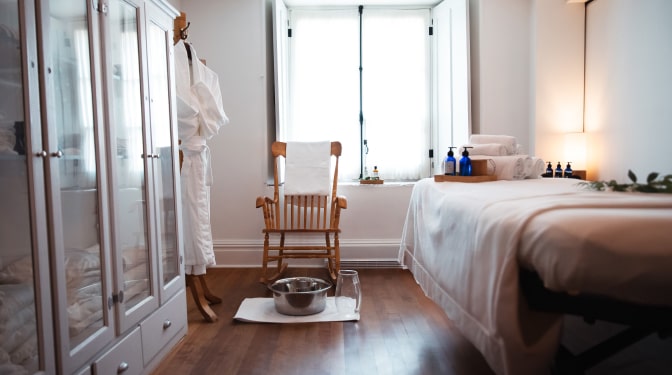 Monastic Signature Massage
Of all the massages in Québec City, this one stands out from the rest in every way! Enjoy a unique experience in keeping with the Augustinian traditions of care. This one-of-a-kind moment begins with a foot purification ritual based on the rich heritage of the Sisters' community. It is followed by an enveloping, nurturing and comforting massage with 1639 hot oil, designed specifically for Le Monastère, set to monastic music composed by Hildegarde in the 12th century. It's a massage that makes time stand still!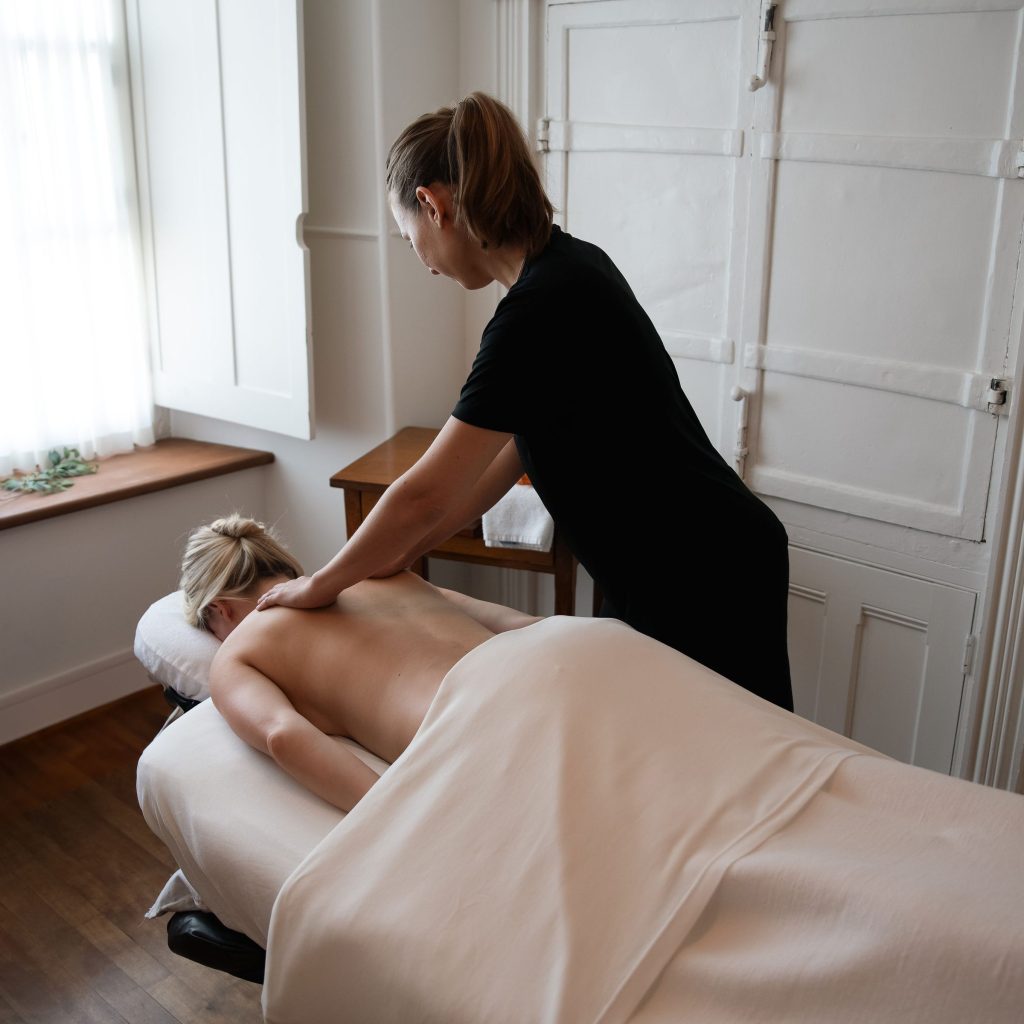 Massage Secrets des bois
NEW | Enjoy a gentle moment with this oil massage scented with black spruce, an emblematic conifer of the boreal forest whose sweet, fruity essence energizes the entire body. A comforting massage that will give you the benefits of a walk in the woods!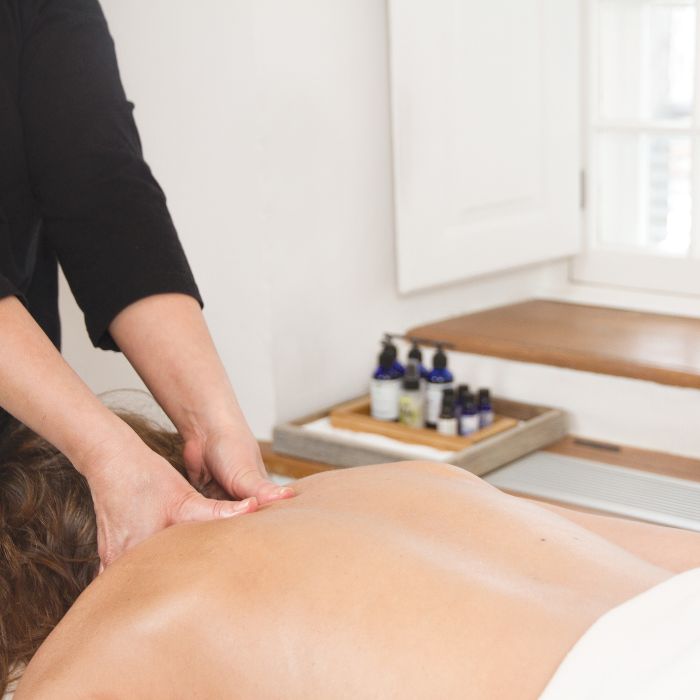 Classic Massage
A personalized session tailored to your needs for relaxation or vitality. Possible benefits include relieving tension, reducing muscular pain, activating blood circulation, and restoring movement or fluidity to the body. Please let us know your preferences before the session begins; our massage therapist will adjust their techniques accordingly.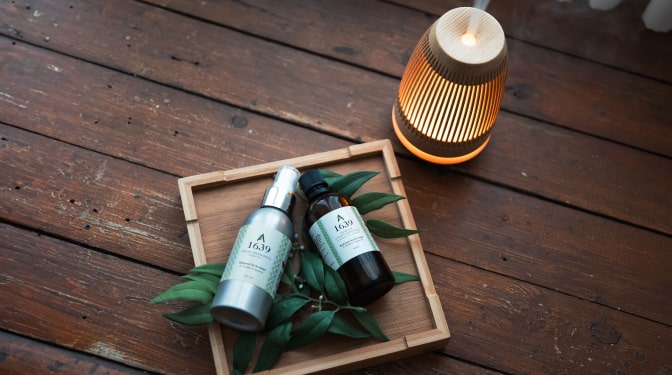 Aroma Massage
Enjoy a classic massage enhanced by a selection of essential oils. Let your intuition and your state of mind guide you in your choice of oils. They can be diffused in the air or used directly on your body. It's an authentic aromatherapy experience that brings balance between the body and mind!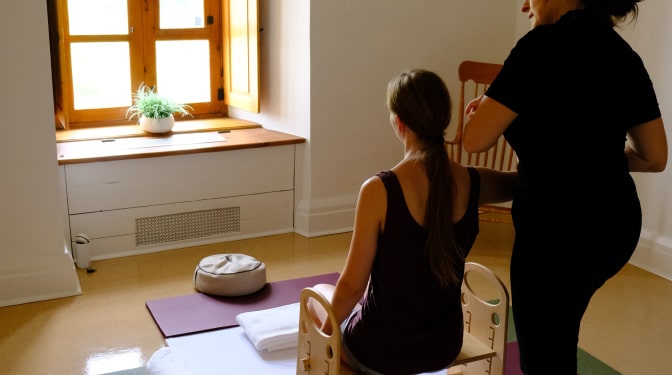 Thai Yoga Massage
This holistic approach to body massage involves pressure points along energy lines, passive stretching and assisted yoga postures. It releases muscular tension, calms the mind, and restores flexibility and mobility. It's a gentle way to improve your well-being. Please wear comfortable clothing, as this treatment is offered without oil and over clothing.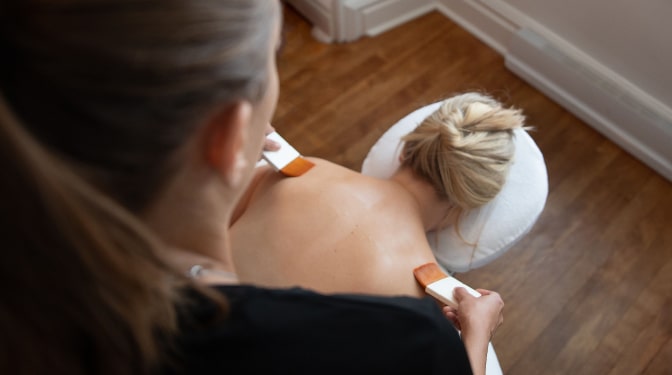 Tranquillity Pro-Sleep Massage Ritual
This massage treatment promotes a restful sleep and leads to a deep state of relaxation. It combines the massage therapist's gentle touch with a brush application of Comfort Zone's Tranquillity hot oil and specially composed music to bring about slumber. It is ideal for those suffering from stress, sleep deprivation or insomnia, helping to induce good-quality sleep.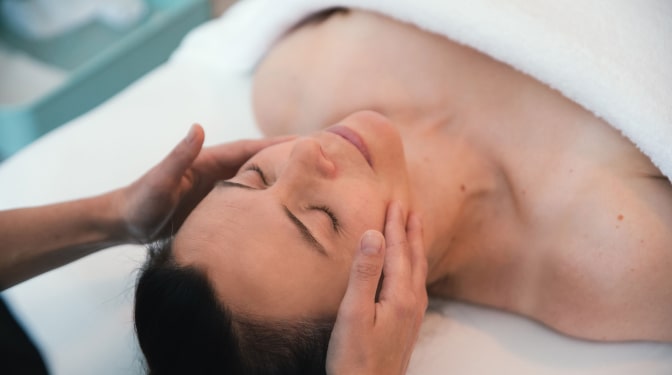 Sacred Nature Facial Treatment*
Pamper your face with Comfort Zone's Sacred Nature, certified organic skincare, eco-designed to preserve skin youth and contribute to biodiversity protection. Its scents will remind you of a refreshing stroll through a garden! Offered in several steps, this treatment reoxygenates and protects the skin as well as giving it a luminous appearance. To continue indulging yourself at home, find Sacred Nature products in our boutique. *This treatment is offered by a massage therapist.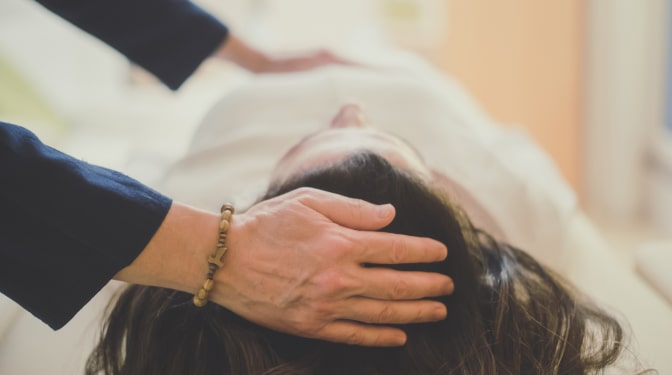 Energy Healing Massage
With a light touch, the therapist takes you on an energetic journey through your body. This treatment acts on the whole individual, allowing vital energy to circulate freely, activating the body's natural capacity for repair and regeneration. A session can calm the mind, reduce stress and help release pain. Please wear comfortable clothing, as this treatment is offered without oil and over clothing.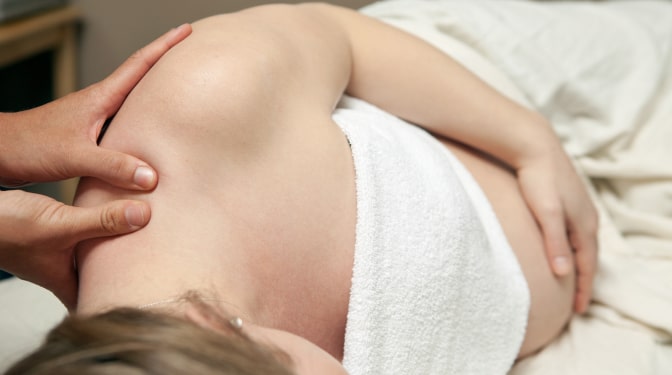 Prenatal Massage
This is a massage for expectant mothers (15 weeks or more). The techniques used in this massage release muscular tension, increase blood circulation and create a feeling of lightness. We can suggest different positions for optimal comfort, depending on the stage of your pregnancy.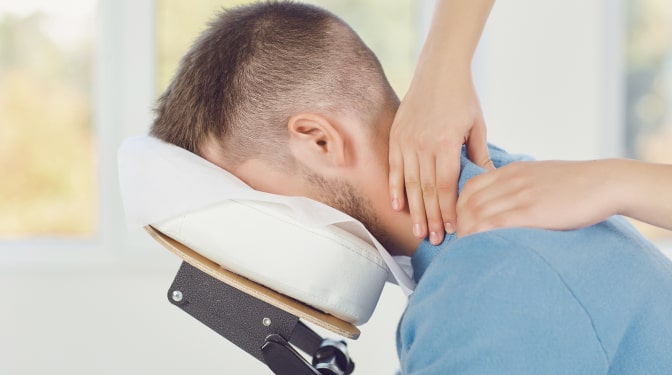 Chair Massage
Allow yourself a break from the hustle and bustle of everyday life! A chair massage takes place in a seated position on an ergonomic chair. It focuses on the back and head. It's an excellent way to promote wellness that's easy to integrate into your day. Please wear comfortable clothing, as this treatment is offered without oil and over clothing.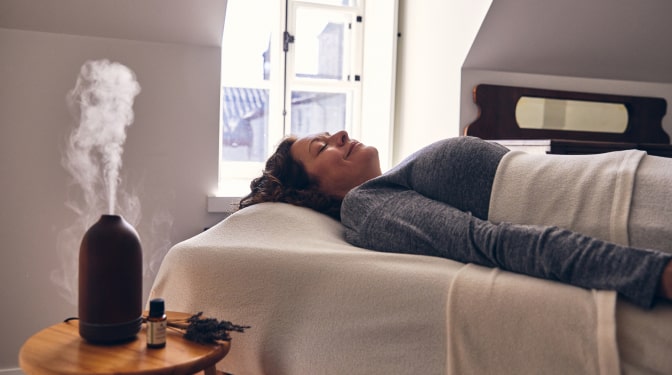 NeuroBed Session
Lie back and let yourself be carried away by the music and vibrations of NeuroBed, which will immerse you into a state of mental and physical harmony. NeuroBed entices the body to let go of tensions and blockages, then soothes the nervous system. After a session, your accumulated stress will dissipate, giving way to deep relaxation. Please wear comfortable clothing for this treatment. Try it as a complement to a massage at Le Monastère!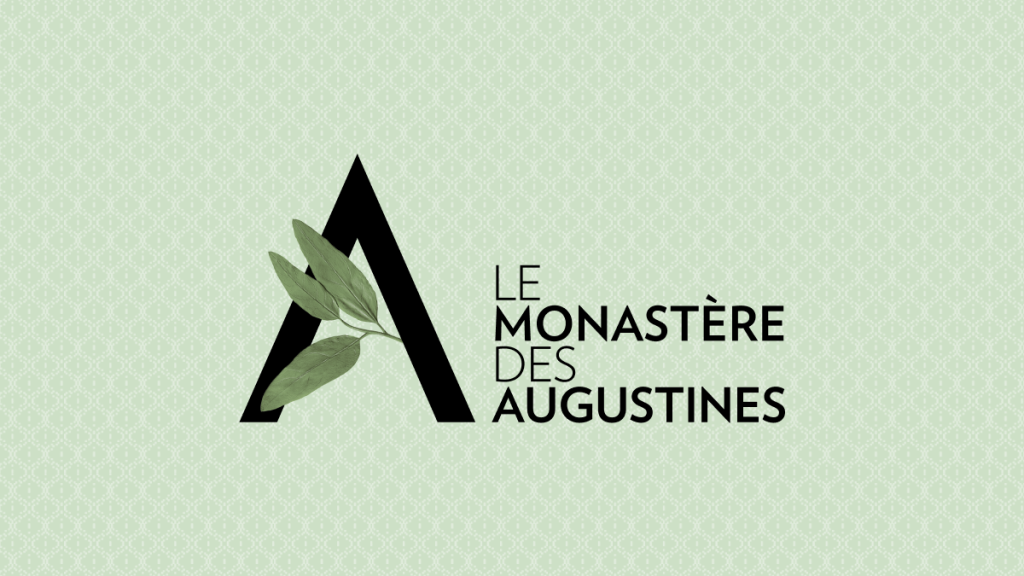 Pressure Therapy Session
Pressure therapy is performed using a progressive pressure device in the form of leg boots. These alternately compress and decompress the lower limbs. Their upward and downward movements activate blood circulation and promote drainage. This treatment helps reduce the sensation of heavy legs, fatigue and swelling, and promotes muscle recovery. Before booking, please ask our staff about any contraindications for this treatment.
Benefit from a moment with one of our wellness guides to continue your journey towards well-being. We'll provide meticulous attention to your preferences and needs!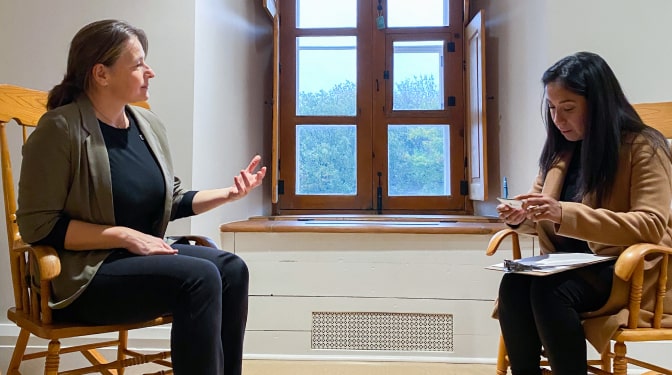 Holistic Health Consultation
This individual consultation unfolds as a discussion where the guide introduces five key elements for balanced overall health. You will leave with ideas, knowledge and tools to help you take better care of yourself on a daily basis. It's a great way to bring the essence of Le Monastère home.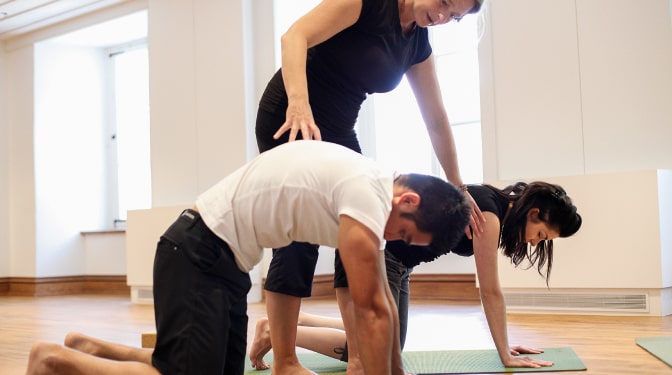 Private session
Take advantage of the expertise of one of our wellness guides to experiment, according to your needs, with different movement, breathing, relaxation and meditation techniques. Solo or in duo with the person who accompanies you at Le Monastère, you'll go home inspired by new methods that can contribute to your overall health.
Treat someone to one of our massages in Québec City
Allow a loved one to take time for themselves with our massages in Québec City. Introduce them to Le Monastère with one of our massage therapy gift cards. The perfect gift for any occasion!