Yoga For the Family at Le Monastère
Le Monastère offers playful and entertaining family yoga workshops, where parents and grandparents are encouraged to discover the benefits of yoga with their children and grandchildren, through improvisation and imagination. These family-related workshops are conducted under the direction of yoga teacher Marie-Claude Paradis. She explains the purpose of the family and its benefits for children and families.
It is an activity that allows children to discover yoga while having fun. The difference between yoga for children and adult yoga is at the level of its vitality and energy. It's open for flexibility and freedom in the execution of movements. The sessions are tailored according to the age of the children. With young children, I usually organize the sessions around a theme (Halloween, Christmas, a visit to the zoo, or a trip) or a story. The learning of each posture is through games, which does not in any way diminish the benefits of the practice.
With the help of a theme or story, we explore classical yoga postures in a fun way. A walk through the jungle, for example, allows you to discover the posture of the cobra. For the older kids, there are more abstract themes, such as learning to see things differently. Although the sessions are tailored for children, adults also participate.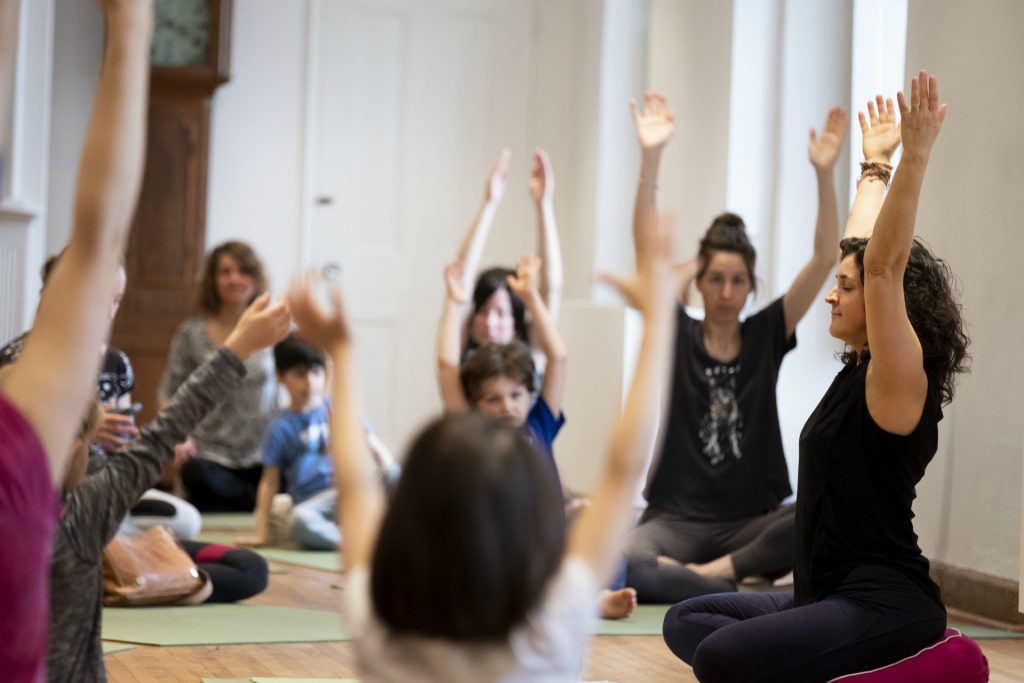 Who can participate in family yoga?
Children with their parents, grandparents, uncles and aunts are welcome. I offer class adapted for two age groups. The 9:30 a.m. class is designed for children between the ages of about 4 and 6. Playful themes and games are the main focus. The session lasts 45 minutes each.
The 10:30 a.m. class is attended by school-age children, aged between 7 and 12. The class is designed for older children. We will continue to have fun and play, but we can go a little further in exploring such things as posture. It is also an opportunity to deepen kids' knowledge of some elements of the philosophy of yoga. For a family with an 8-year-old and a 6-year-old child, of course, it may be a good choice to come to the course for 7-12-year-olds, which lasts 60 minutes.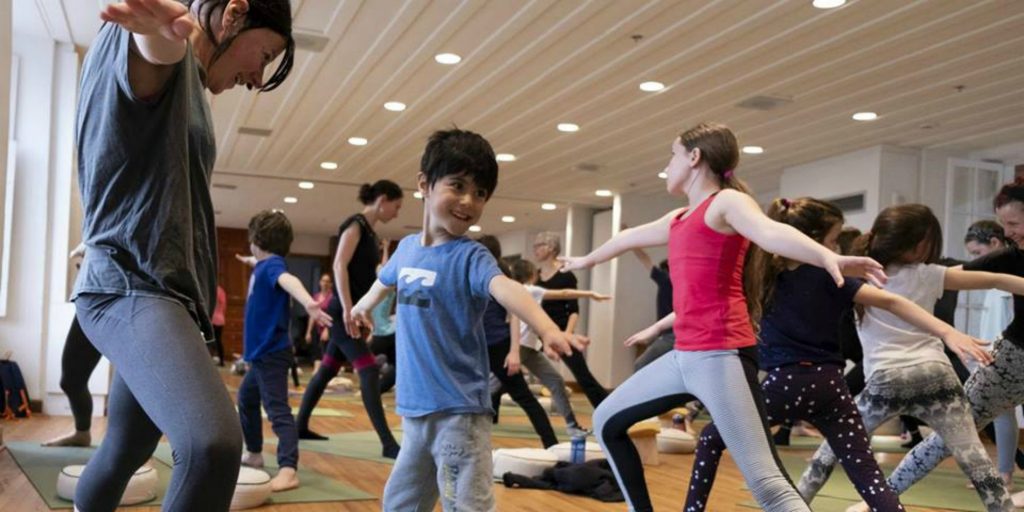 What is a typical family yoga class?
During each class, we start with a short practice of concentration and a moment of observation. As they progress, children are also taught to use their breathing to relax or refocus. Some postures or activities are performed individually, others are performed in pairs or in groups to encourage interaction between children and the adults accompanying them. The session ends with resting postures and relaxation.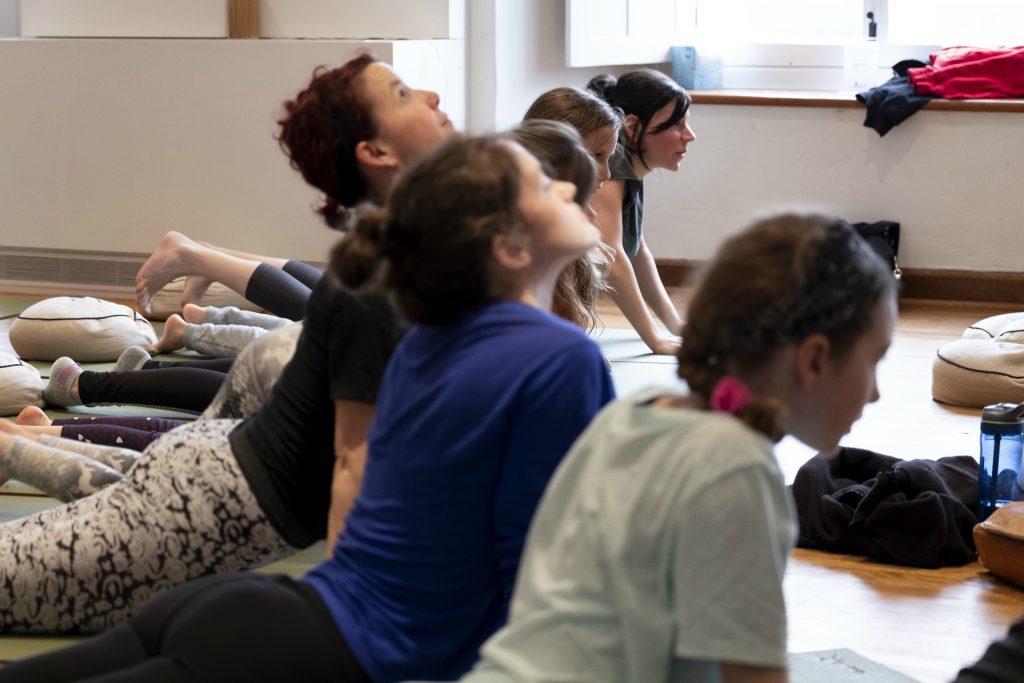 Is the practice of yoga easy for children?
In a children's yoga class, the emphasis is never on perfect execution of a posture, but on exploration. Children are encouraged to respect their limits. They love to try out postures that appeal to their imagination. The postures and sequences are adapted for children. They can achieve different objectives depending on the situation and context: to relax, concentrate, build self-confidence, improve relationships with others, boost energy or, on the contrary, calm it down.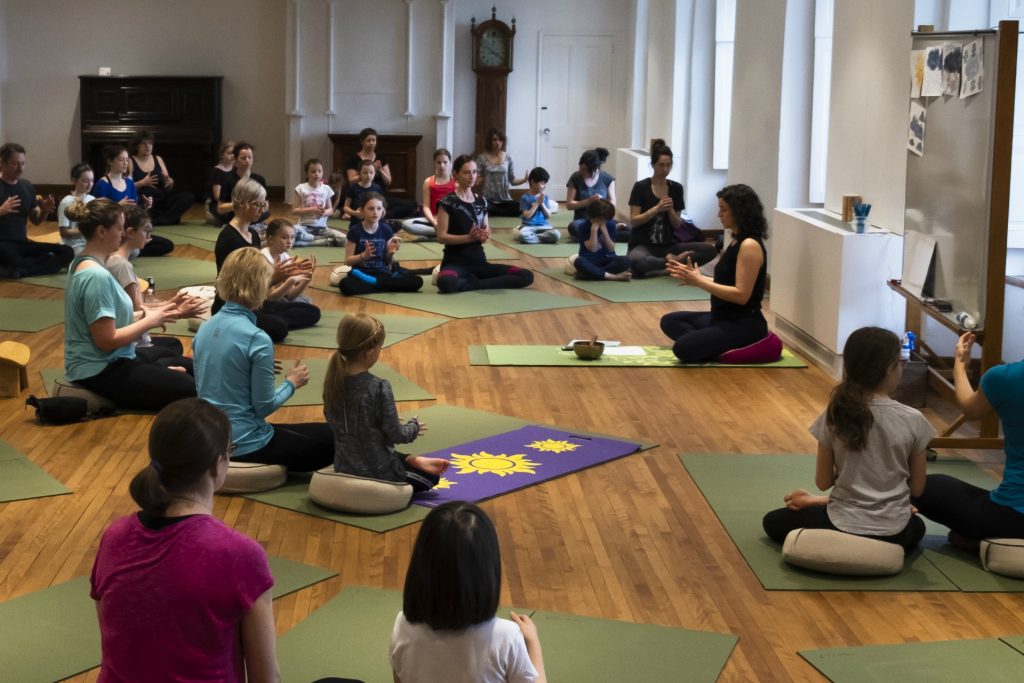 What are the benefits that family yoga offers?
Since everything often goes very fast, sometimes too fast, in our lives, it is good to take a break and settle down. Family yoga is very democratic: some postures are easier for children, others for adults. We all learn to respect ourselves and each other. Collaboration is also a priority. For children, it is a time to learn to focus on themselves. For adults, it is an opportunity to relax through having fun.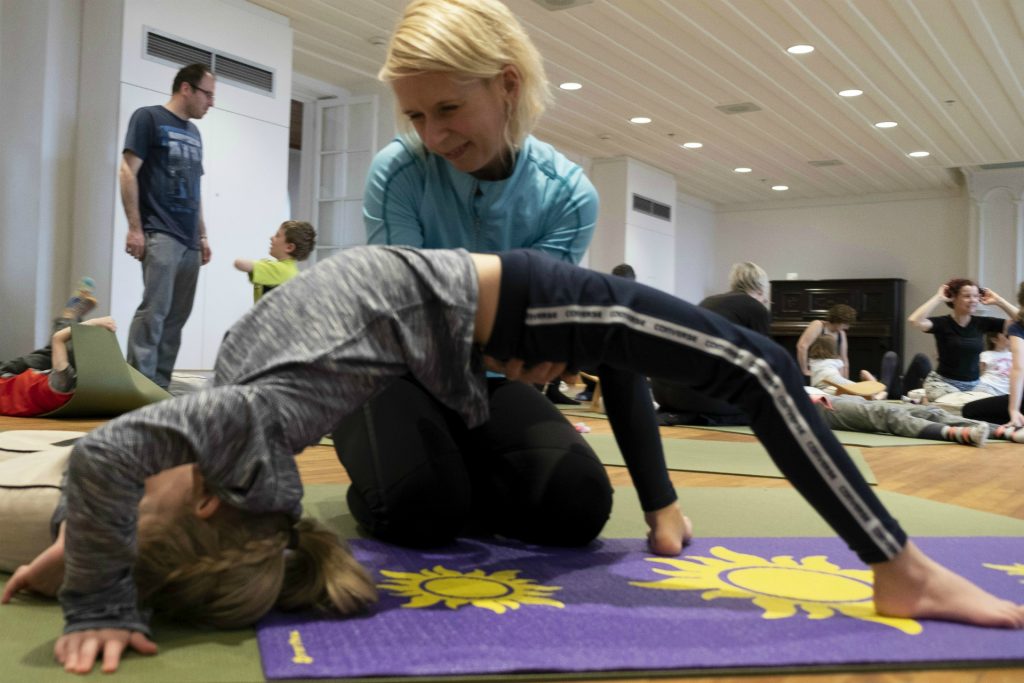 What are the benefits of yoga for children?
From the Sanskrit word "to unite", the ultimate goal of yoga practice is to reconnect body and mind by combining physical exercises and breathing techniques. Through the regular practice of yoga, children can learn to channel their excess energy, develop strength, stability, flexibility and endurance—both physically and emotionally. It also helps to improve concentration and attention span, become aware of one's body and emotions, cultivate self-confidence and trust in others, and reduce anxiety. However, this is not magic: all of these advantages do not necessarily appear after a single session, but through regular practice. Nevertheless, family yoga classes can be a great opportunity to explore the world of yoga.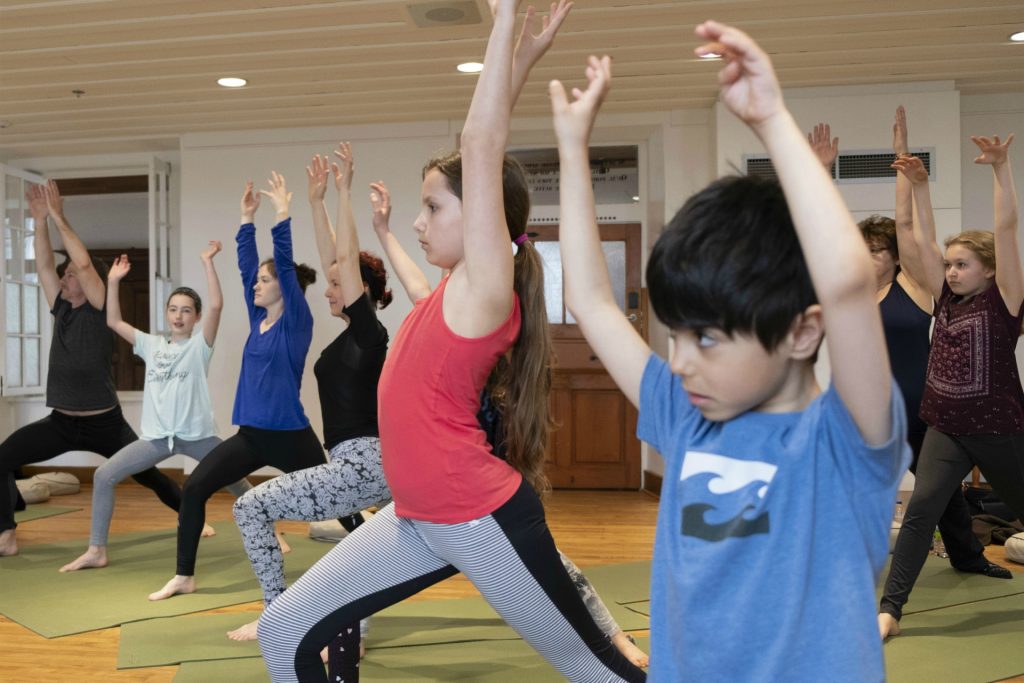 From where did the idea of offering yoga activities for the family originate?
Health, fitness and yoga activities have always interested me. So much so that after a busy career in television production, I chose to devote myself full-time to this passion. I have always loved being in contact with children; I am a mother of three children myself. It only seemed natural that I should focus more specifically on youth and family clients. I know that when you have children, the weeks are full and life is stressful. As a parent, we are constantly looking for tools to have more harmonious family lives. These are some of the tools I share in family yoga classes.